Cincinnati Pool and Patio – Backyard Life Specialists for Amelia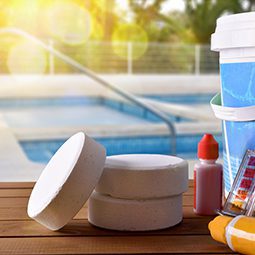 Cincinnati Pool and Patio is the number one choice for outdoor entertainment needs. Amelia's homeowners turn to us first for professional pool installation and other backyard services. Whether you need spas, grills, or patio furniture, we have everything Amelia needs to create the perfect backyard entertaining space.
Amelia's Premier Pool Specialists
Your summer centerpiece will be perfect thanks to the experts at Cincinnati Pool and Patio. Since 1966, we've been providing first-rate products and excellent customer service for all your pool needs.
Inground Pools
The quality of the installer is the number one factor in how well your inground pool functions. Cincinnati Pool and Patio is Amelia's expert in inground pool installations, with many types of pool configurations to choose from. Over 50% of our business comes from referrals! Because of this, you know that you're getting a quality installation and product that will last for many summers to come.
Above-Ground Pools
For homeowners who don't necessarily have the space or the budget for an inground pool, above-ground pools are a popular alternative. The never-ending possibilities for decking and landscaping around above-ground pools provide endless backyard customization options. Cincinnati Pool and Patio installs quality above-ground pools for the Amelia area, and we provide many options for pool accessories as well. Ladders, lighting, slides, and alternative chlorination systems are all available in our stores. Ask us how we can make your above-ground pool your backyard centerpiece.
Pool Accessories
A pool isn't complete without all the accessories to go with it. From liners and covers to cleaning accessories and pool toys, Cincinnati Pool and Patio has it all to make your pool sparkle. Your pool will always perform its best with our chlorine products, saltwater sanitation systems, and other cleaning chemicals. You won't have to worry about the hassle of driving all over town to find what you need; our store is your one-stop shop for all your pool chemicals and accessories. Plus, our dedicated sales professionals are knowledgeable in all our products. They will make recommendations and help you find the right products for your pool every time.
Pool Openings and Closings
It can be difficult to open or close your pool by yourself. Take the fuss out of starting or ending your season and schedule your pool opening or closing with Cincinnati Pool and Patio. Simply contact us, set up a time, and we'll take care of the rest. All you'll have to do is enjoy your pool; we'll handle the foundation, water, attachments, filters, chemicals, and all other components of the process for you.
Amelia's #1 Patio Authority
Your patio should be a refuge away from the hustle and bustle of your home. Choosing the right outdoor furniture and décor will transform your patio space into your private backyard getaway. Amelia residents turn to Cincinnati Pool and Patio to help them furnish their patio with our large selection of furniture solutions. We carry all the leading brands of furniture and accessories, so you won't have to look far to make your patio something special.
Grilling in Amelia
Summer isn't complete without backyard barbecues. Cincinnati Pool and Patio is proud to offer a wide selection of grills and grilling accessories. Including leading brands like Firemagic and Napoleon, Amelia residents looking for the perfect grill always find something at Cincinnati Pool and Patio to make their barbecue perfect.
Best Hot Tubs for Amelia
Relax in your own backyard with a premier spa from Cincinnati Pool and Patio. Amelia homeowners visit our store when they want to add a hot tub to their outdoor space because of our variety and expertise. Name your price point, style, or size, and we'll take care of the rest.
Outdoor Experts for Amelia
We have a simple four-step process for creating the perfect outdoor space. When it comes to outdoor renovations, Cincinnati Pool and Patio is who Amelia turns to first, because of our knowledge and ability to get things done. All you have to is simply walk in, discuss your vision with one of our consultants, and we'll draft up a blueprint for your dream outdoor area. Once you approve our plans, that's it! We'll take care of the rest and soon you'll be enjoying your backyard paradise.
Cincinnati Pool and Patio has all Amelia's Outdoor Needs
Perfect pools, top-of-the-line grills, and more are all available for Amelia residents at Cincinnati Pool and Patio. Our customers have been coming to us since 1966, trusting us to be their go-to experts for all things outdoor. We provide dependable, honest advice and a wide array of products and services that will suit any outdoor need. Pools, hot tubs, grills, and more, we have everything you need to make your own backyard your favorite vacation destination. Contact us or come visit us to see for yourself why Cincinnati Pool and Patio is the leading outdoor expert for Amelia.